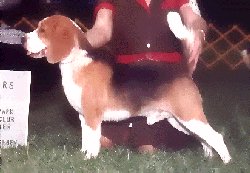 CH NAVANS FANWOODS AMBASSADOR
"AMOS" was bred by C. Tess, Valerie Barbabas, and Nancy Cannon. Through the generosity of Valarie Barabas of Fanwoods Beagles, Amos was allowed to retire to Windsong after the untimely death of Nancy Cannon. He is living his "Senior" years sunning himself and having a few lady friends visit. He is truly a "Golden Oldie". WHELPED 7/20/1989 -OFA-GOOD
THYROID-Normal -DNA Profile V59867 For more information contactWindsong Beagles.


					CH PIXSHIRE'S TEXAS TRACKER
			CH PIXSHIRE'S STOCKBROKER
					CH KENRUN KAPRICE
	CH LOKAVIS SIR GEORGE
					CH NAVAN'S TRIPLE TROUBLE RICK
			PIXSHIRE'S INSTANT TROUBLE
					PIXSHIRE'S INSTANTLY
CH NAVANS FANWOODS AMBASSADOR
					CH PIXSHIRE'S COMING ATTRACTION
			CH NAVAN'S DANNY BOY
					CH NAVAN'S TRIPLE TROUBLE TAFFY
	CH NAVAN'S BITTERSWEET DREAM
					CH NAVAN'S TRIPLE TROUBLE RICK
			CH NAVAN'S SPECIAL RICK-QUEST
					CH TELOCA KARTAK SWEET CHANLO
		
MORE NAVAN'S CHAMPIONS